5 Effective Holiday Marketing Tips for eCommerce Stores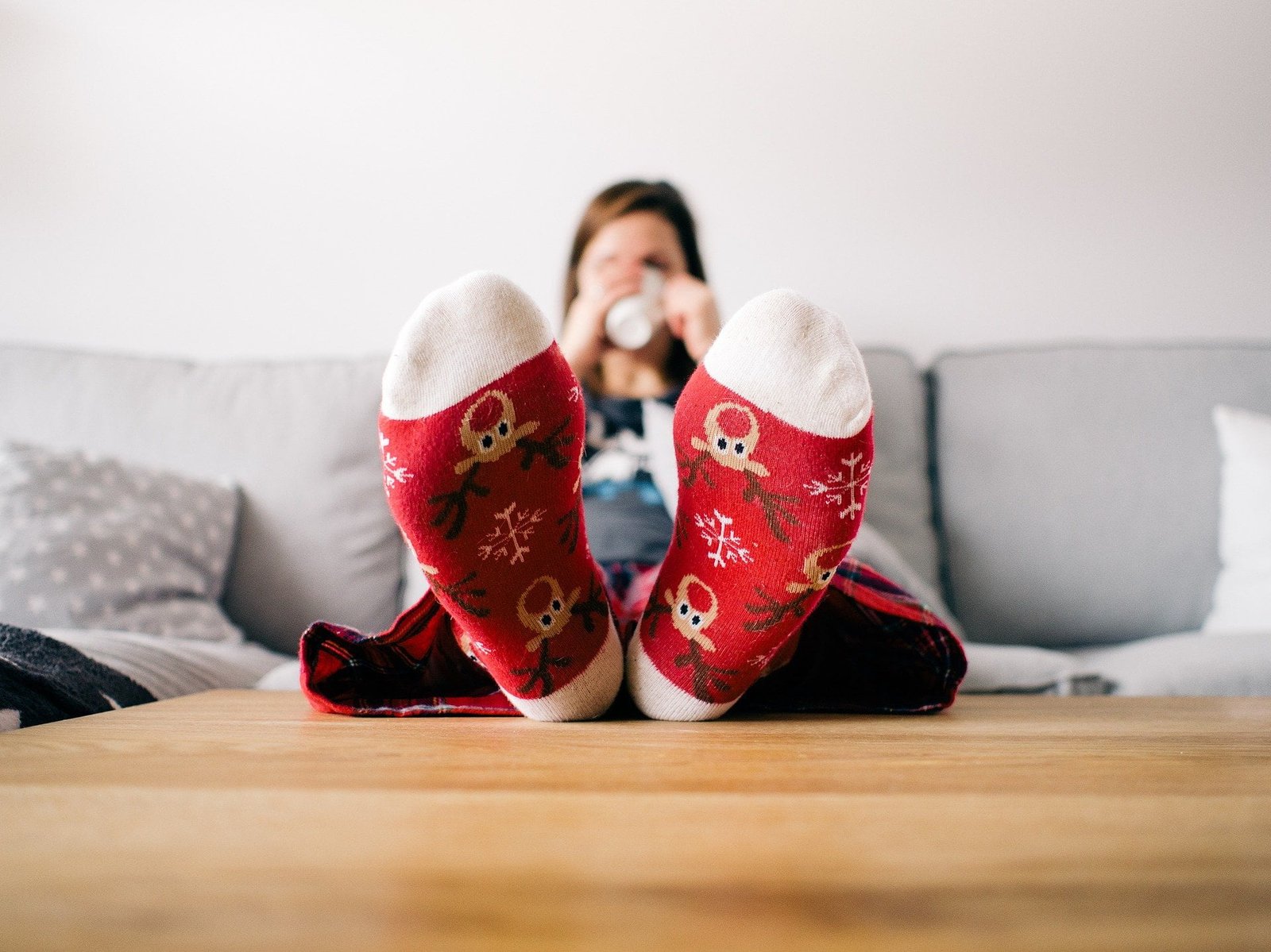 Image credit: Pixabay
The holiday period is an excellent opportunity to increase profits. But to reach this goal, it is essential to make effective use of all available marketing opportunities.
Modern technical possibilities make it much easier to stay in touch with existing customers and to attract the attention of new ones. So don't be lazy to spend time and effort preparing for the holiday season, and you will surely benefit from that.
In the following article, you will find five simple and effective techniques for increasing sales, which you can use during the holidays.
How to Boost Sales in Your Online Store During the Holiday Season: 5 Important Tips
According to statistics, the share of eCommerce sales in the total revenue of the retail industry during the holiday period is growing every year (see the screenshot below). So it is impossible to ignore the growing popularity of online versus brick-and-mortar stores due to the coronavirus pandemic. That makes it even more evident how important it is to pay enough attention to preparing your online store for the holidays.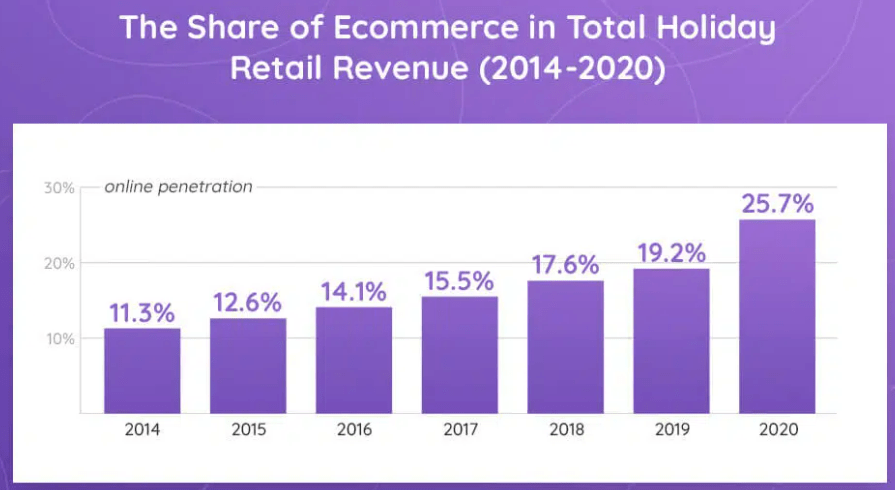 Screenshot taken on the official SaveMyCent website
Where Exactly Should You Start?
We should mention that before introducing Christmas and New Year themes into the marketing campaign of your site, you have to ensure that it is:
Sufficiently optimized for all devices;

Bug-free;

User-friendly.
Also, check if your store can handle the increased traffic due to the holidays before attracting users to it.
If you have long wanted to transfer your eCommerce site to a more advanced CMS, you should do it before the season. For example, headless commerce platform costs (Magento, BigCommerce, Salesforce Commerce Cloud, etc.) are relatively affordable. Meanwhile, switching to one of them and optimizing your website in the right way will ensure that your store is ready for the hottest season.
So you've optimized your online store. Now, what are the ways to convince visitors to buy from you?
Below we'll talk about some important nuances. Let's dive in!
1. Apply a Holiday Theme to Your Store's Website
Of course, this advice may seem trivial. However, many eCommerce store owners neglect to redesign their websites for the holidays.
There's no secret that people have a strong perception of visual content, so it's definitely worth allowing them to immerse themselves in the holiday atmosphere right on your site.

You can use:
Themed banners;

Christmas countdown widget;

Various pop-up windows and other tricks.
The main thing is not to overdo it with decorations: the final design should look stylish and not crowded.
Such a technique will remind customers that Christmas is coming and they need to buy gifts as soon as possible. This will increase the number of orders, which means you will get more profit.
For example, Nord VPN designed its site for a holiday in a minimalistic but classy way. The winter-themed banner with the discount announcement is attracting visitors' attention. There is also a countdown to the end of the promotion and a bright CTA button.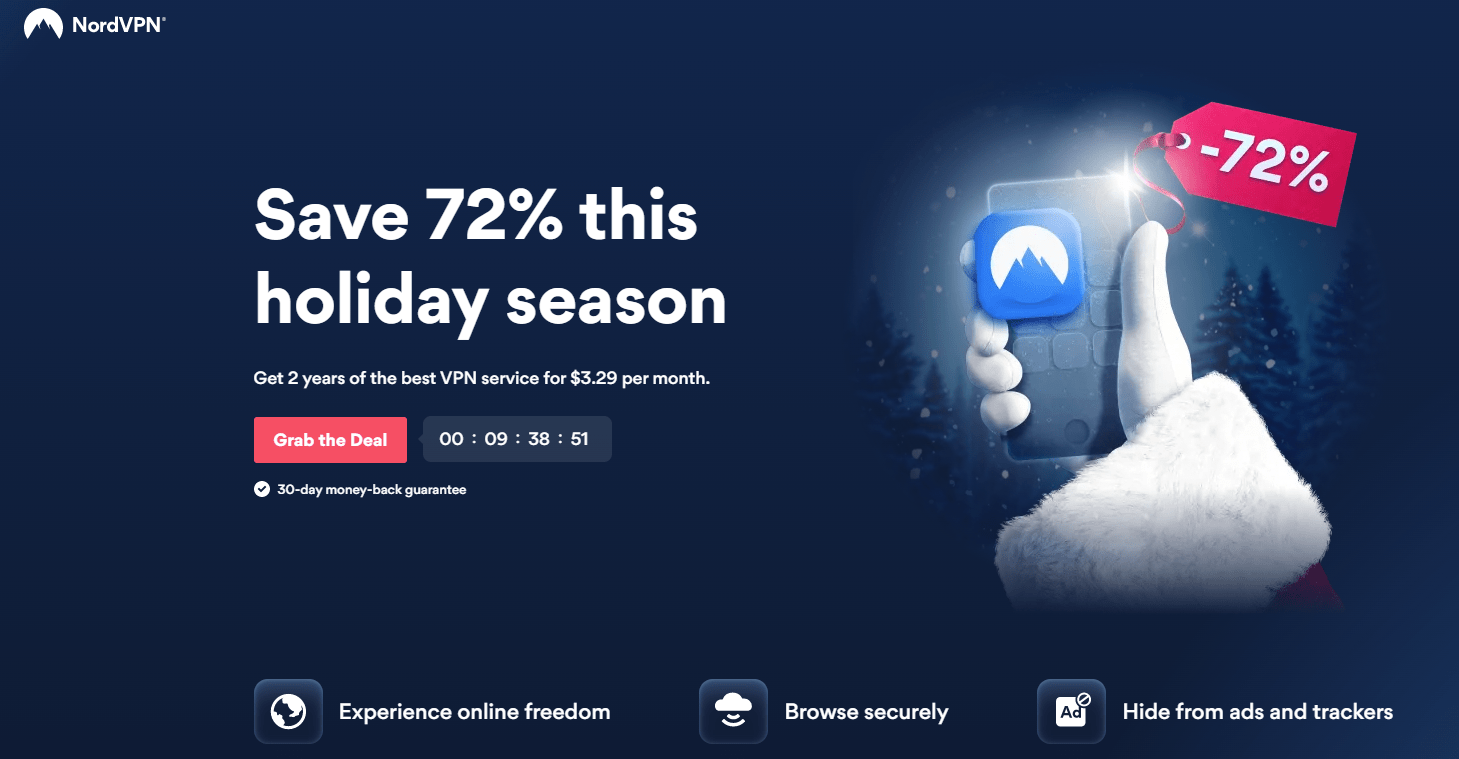 Screenshot taken on the official NordVPN website

2. Help Your Customers with Gift Selection
Choosing gifts is not an easy task. That's why your customers will appreciate your help in that.
Be sure to provide gift guides on your website. Demonstrating your products, giving your customers gift ideas, and inspiring them with such a guide will help them select presents from your assortment. So this powerful tool will not only increase customer satisfaction but will also boost your sales.
What should a guide be like? This technique is quite popular among eCommerce stores, which means you should try to make your guide stand out from the competitors.
In most cases, guides look similar. It's a division of presents into categories, for example, like Tommy Hilfiger did (in the screenshot below):
Men's;

Women's;

Kids';

Adaptive.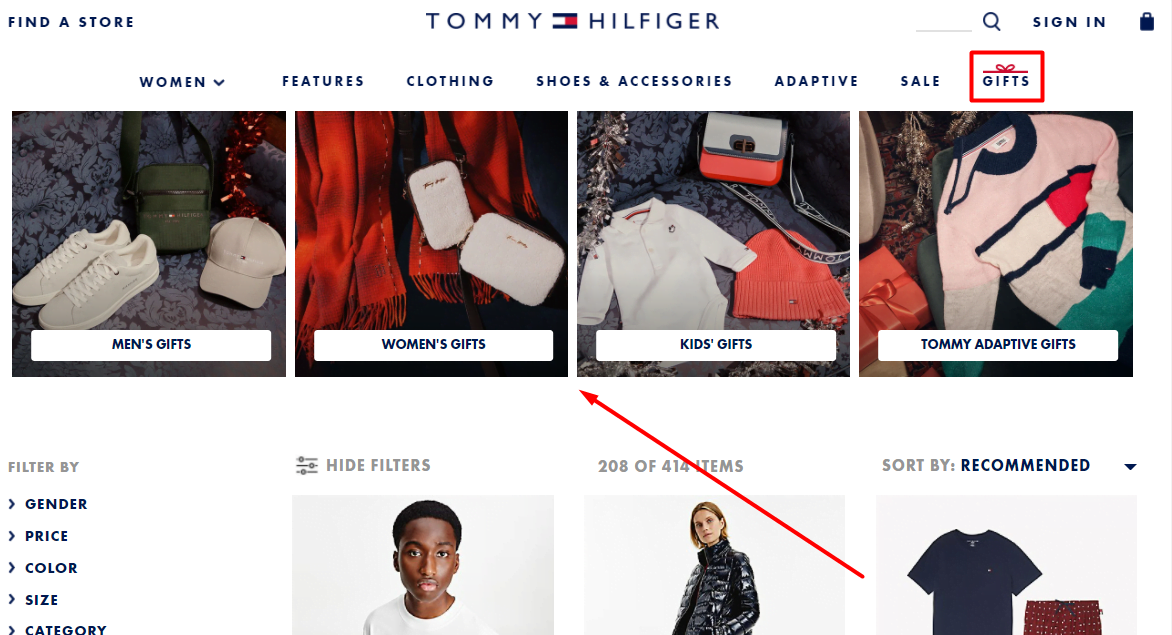 Screenshot taken on the official Tommy Hilfiger website
However, it is better to try something original and interactive. For example, come up with a guide in the form of a personalized test or game.
We can find an example of an unusual interactive gift guide on the Lego website. First, the user is offered to choose the child's age and mark their main preferences. Then, after clicking the "Finish" button, a list of products that match the specified requirements will be provided.
Screenshot taken on the official Lego website
3. Offer Customers Holiday Sets and Combos
It is worth offering your customers pre-made gift kits at a better price. This will free customers from the need to assemble a gift from separate items on their own and allow them to save money.
This solution will please your customers, increase the number of orders, and profit accordingly.
To see an example of implementing such an idea, check the screenshot from the Nordstrom store.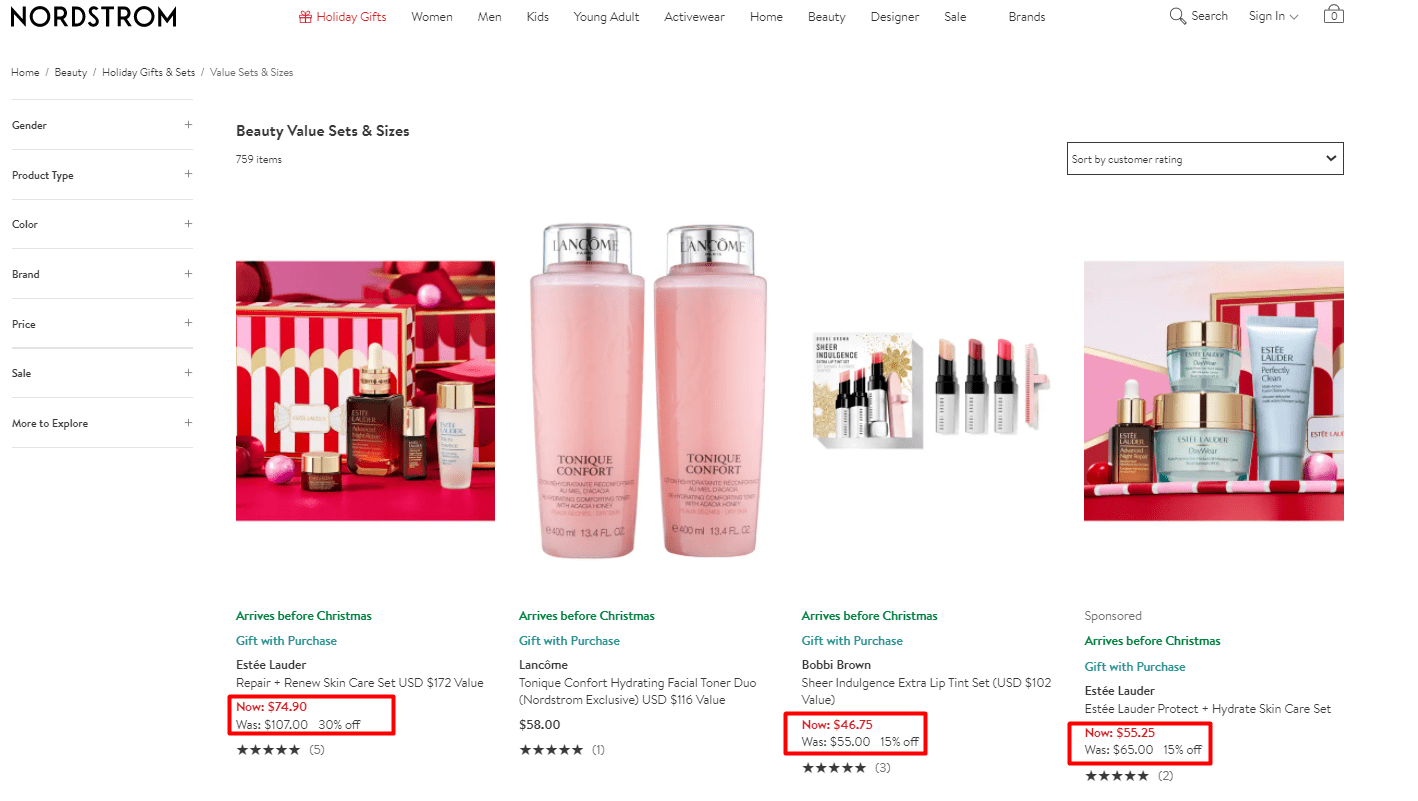 Screenshot taken on the official Nordstrom website
You can see that under some sets the initial cost is mentioned. This way, customers can see how profitable a particular set is for them.
Gift sets are a proven and effective marketing tactic. They are especially effective during the pre-holiday period, so don't pass up the chance to use them to your advantage.
4. Provide a Holiday Discount or Freebie
Before the holidays, it is worth offering specific discounts, the option of free delivery, or a gift for a purchase of a certain amount.

Don't worry that discounts and gifts will harm your profit growth. On the contrary, reduced prices will encourage customers to buy more products. And for gifts, you can offer products for which there is low demand.
As an example, you can look at Bobbi Brown's excellent implementation of this concept. The brand made a game, "Gift in the Globe", in which each customer gets some nice random gift: freebie, a discount, etc. The offer is valid until a specific date and only when ordering online. It allows increasing the number of sales before the holidays.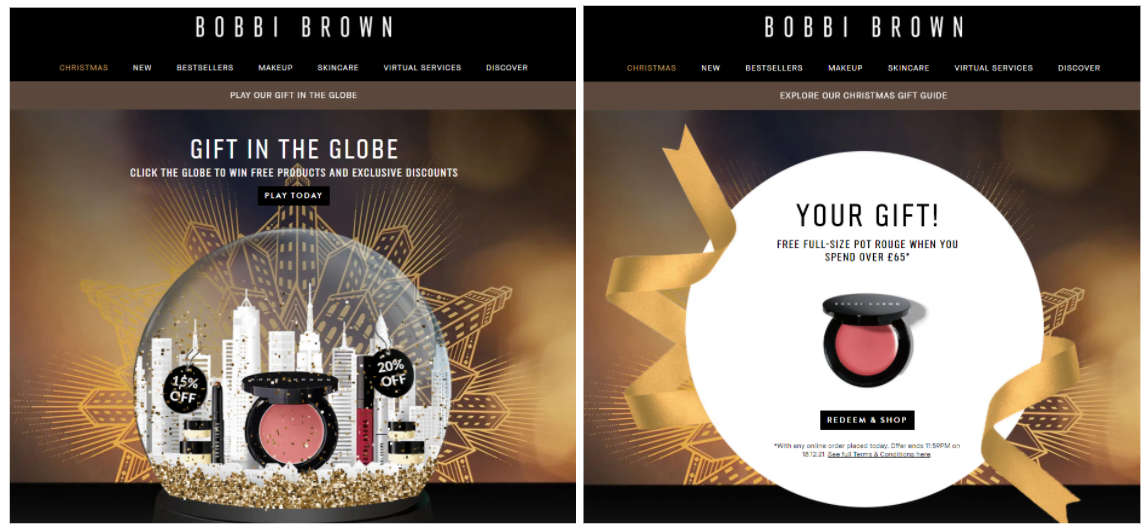 Screenshot taken on the official Bobbi Brown website
5. Set Up a Gift Wrapping Service
Offer your customers to add festive packaging and a personalized message to the gift right on your website. This will help you kill three birds with one stone:
Make life easier for your customers (they won't have to look elsewhere for a wrapping gift option);

Get additional income;

Show care for your customers and thereby increase their loyalty.
In the screenshot below, you can see how the Philosophy brand cares about its customers. At checkout, customers are offered to order a gift box for only $4, and they can also write a free greeting message.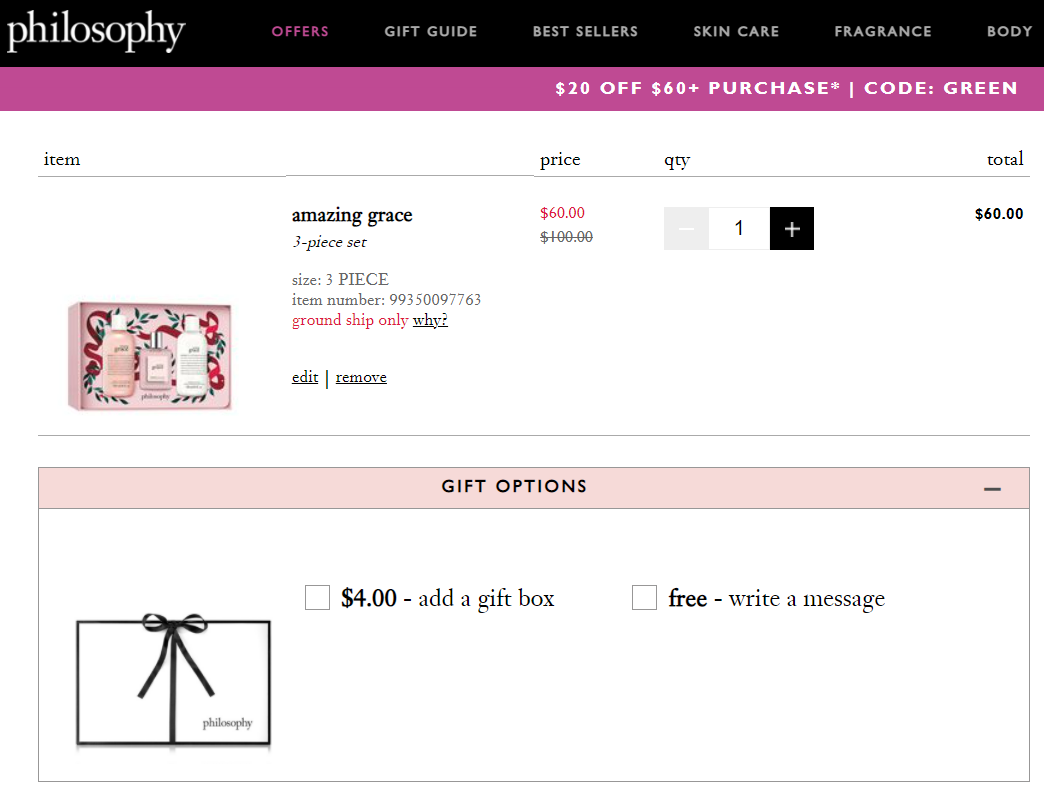 Screenshot taken on the official Philosophy website
Wrapping Up
Whether your eCommerce business is in its early stage or has been in the market for years, the holiday season is an exciting yet challenging time for it.
Yes, the competition between retailers during this period is even higher than usual. However, the opportunities for online retailers to grow their profits are also rising. Therefore, you should not be afraid to apply new techniques and methods to your marketing campaigns.
As we said before, the following practices will give your store competitive advantages:
Applying a holiday theme to your site's design;

Generating gift guides;

Offering sets and gift combos;

Providing a discount or freebie;

Suggesting gift wrapping.
But, of course, this is not the whole list of tricks that can bring you an increase in sales during the holiday season.
Don't be afraid to try new things, and this holiday season has the potential to become the most profitable for your business!
About the Author
Kate Parish
Kate Parish, chief marketing officer at Onilab, with 8+ years in Digital Marketing and eCommerce web development promotion. Kate constantly upgrades her knowledge and skillset to stay fit in the progressing online world. She always does exhaustive research in SEO, branding, SMM, PPC, and Magento PWA development, before sharing her expertise with a wide audience.